in.Case study
The interactive workshop is a system allowing active participation of health workers in dealing with medical cases.

A group of users gathered around the interactive touch screen goes through a medical case together.

By using this tool, we put the participants into an active position and offer them problem-solving in a group, individual decision-making, familiarisation with the diagnostics and treatment algorithms, learning with real cases.

"in.Case study gave us new opportunities in presenting content on interactive and interesting way that encourages discussion and exchange opinions among all the participants of the workshop."
Hilarije Baričević Product Manager
Croatia, Bosnia and Herzegovina, Albania and Kosovo

"A collaboration with Dedal has raised an event that I have organized at a new level and set scale more to all companies involved in similar projects. The doctor's feedback was excellent. A well-constructed concept of event combined with a highly professional Dedal company is a winning combination for success."
Ivan Rukavina FB Brand Manager
Novartis

"With in.Case we engaged our customers in inovative, interactiv and unique way. Feedback was brilliant."
Marina Kelava Field Product Manager MS
CRO/SLO/BiH

"Innovative concept of InCase increases interaction of people involved and interest to the topic.
It was unique experience for our customers and ourselves and reactions were excellent."
Ana Rončević Business Unit Manager Oncology
CRO/SLO/BiH
"InCase undoubtedly sets new standards in education.
Using an interactive approach, it presents realistic clinical problems, stimulates thinking, sharing knowledge and experiences in an interesting and dynamic way. It translates clinical guidelines from a variety of areas into realistic, everyday clinical life in the best way possible. The first personal experiences are extremely positive, I am convinced that in the very near future this kind of education system will be fully realized. "
doc.dr.sc. Šime Manola, prim.dr.med. Cardiologist
Croatia
How many congresses, lectures, workshops and seminars were organized in a similar way?
InCase.study is a winning formula for more successful learning and acquiring practical skills.
The dynamic of communication is changing significantly, therefore making motivating the participants more important.
What are you getting?
the ability to evaluate acquired knowledge
an insight into the decision-making model
feedback
a connection with the participants and moderators
the ability to apply the acquired knowledge in practice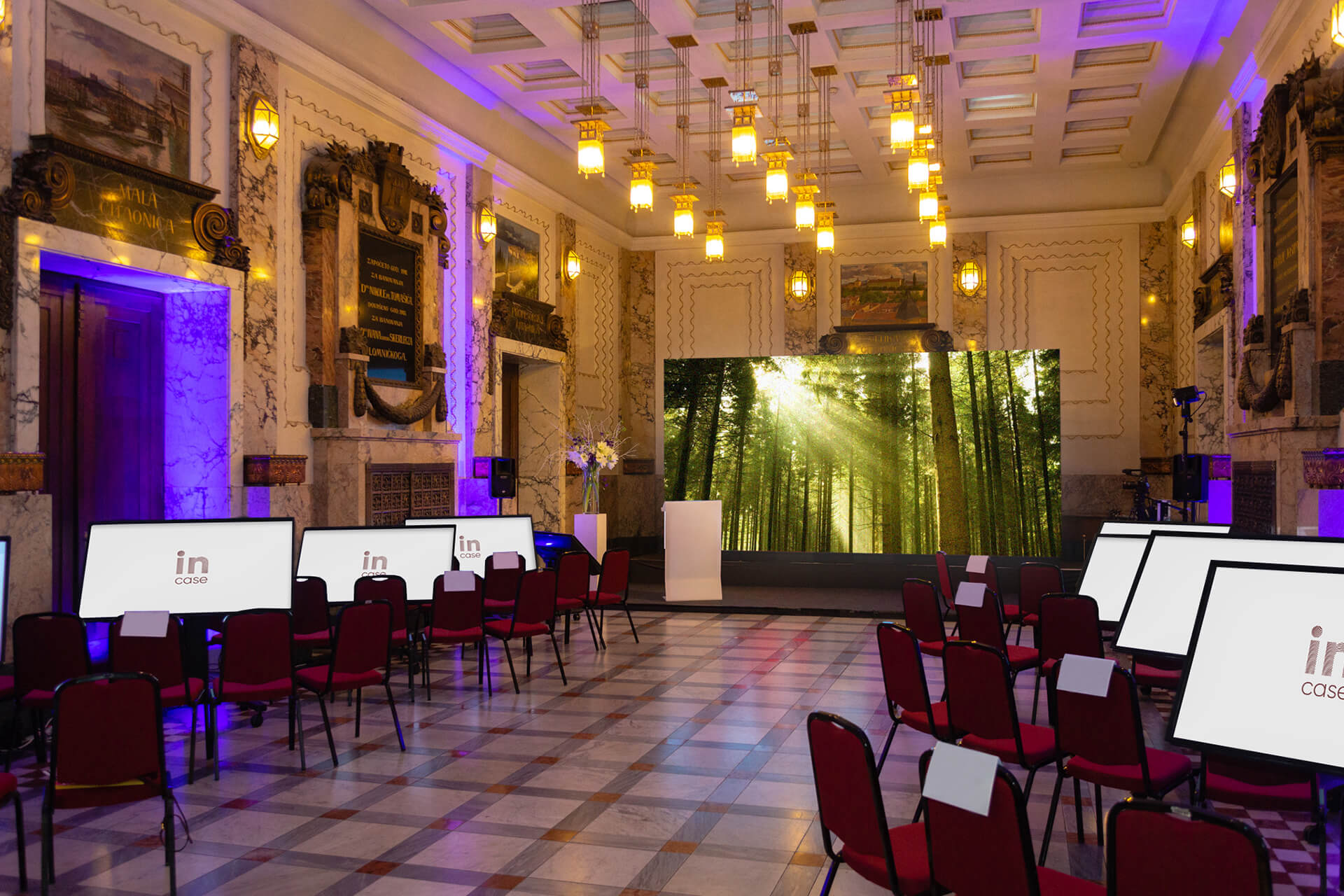 Start interaction and ideas with our tools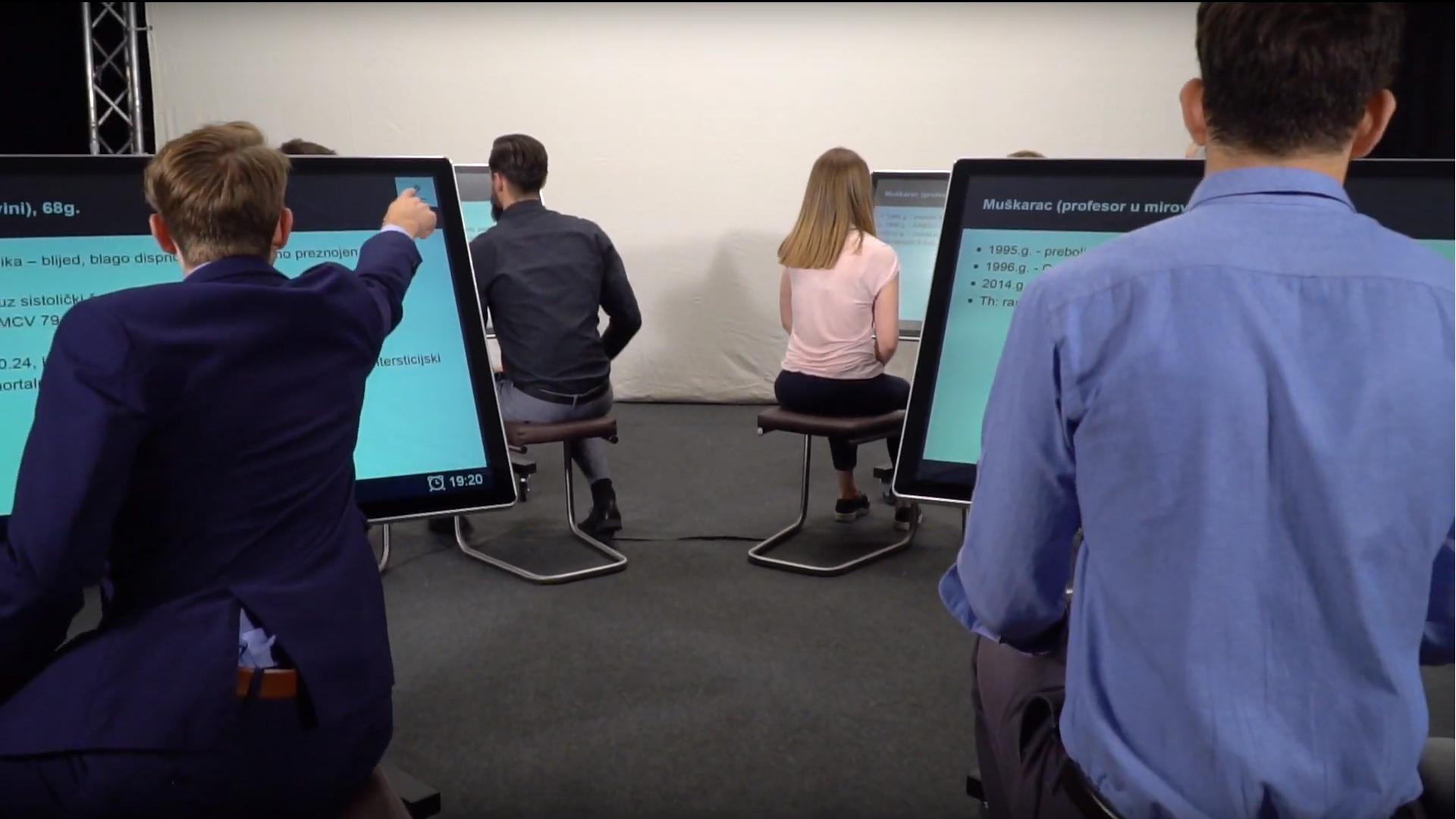 With the in.Case study participants in smaller groups go through a medical case using different modules:
medical history
interactive status
lab results
imaging tests such as X-rays, ultrasound, ECG
video tests such as endoscopy, coronarography, ultrasound
detailed answers to questions
multi-answer questions that can lead the case in different directions, like in real life
directions both for diagnosis and for treatment
slides spurring discussion among participants.
Cases used by experts are prepared and participants solved it independently. The moderator's role is in clarifications and answers to additional questions.
By using the tablets and our own Interactive application we give you new experiance.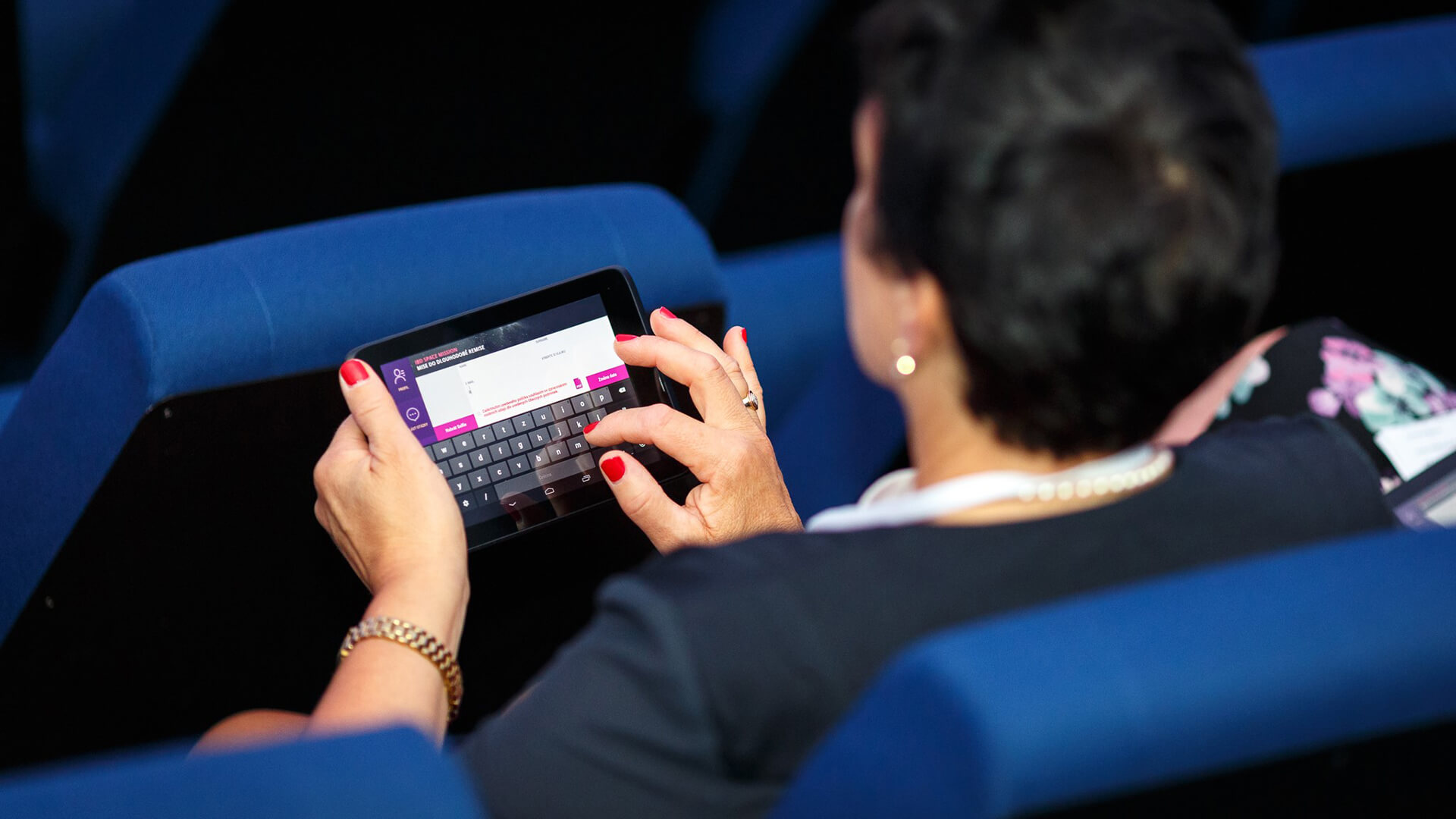 By using the tablets, the participants are able to:
anonymously ask questions
achieve interaction
rate events and themes
answer questions during presentations
check the schedule of lectures
take notes
take part in a contest
chat with other participants
By using the tablets, a company is able to:
view participants' questions
achieve market research
view a complete report with a list of participants and profiles of individual participants
The INteractive aplication and tablets arrive with their own equipment and network systems, regardless of location.
The INposter, shown on a HDTV monitor, offers the participants additional and summarized education.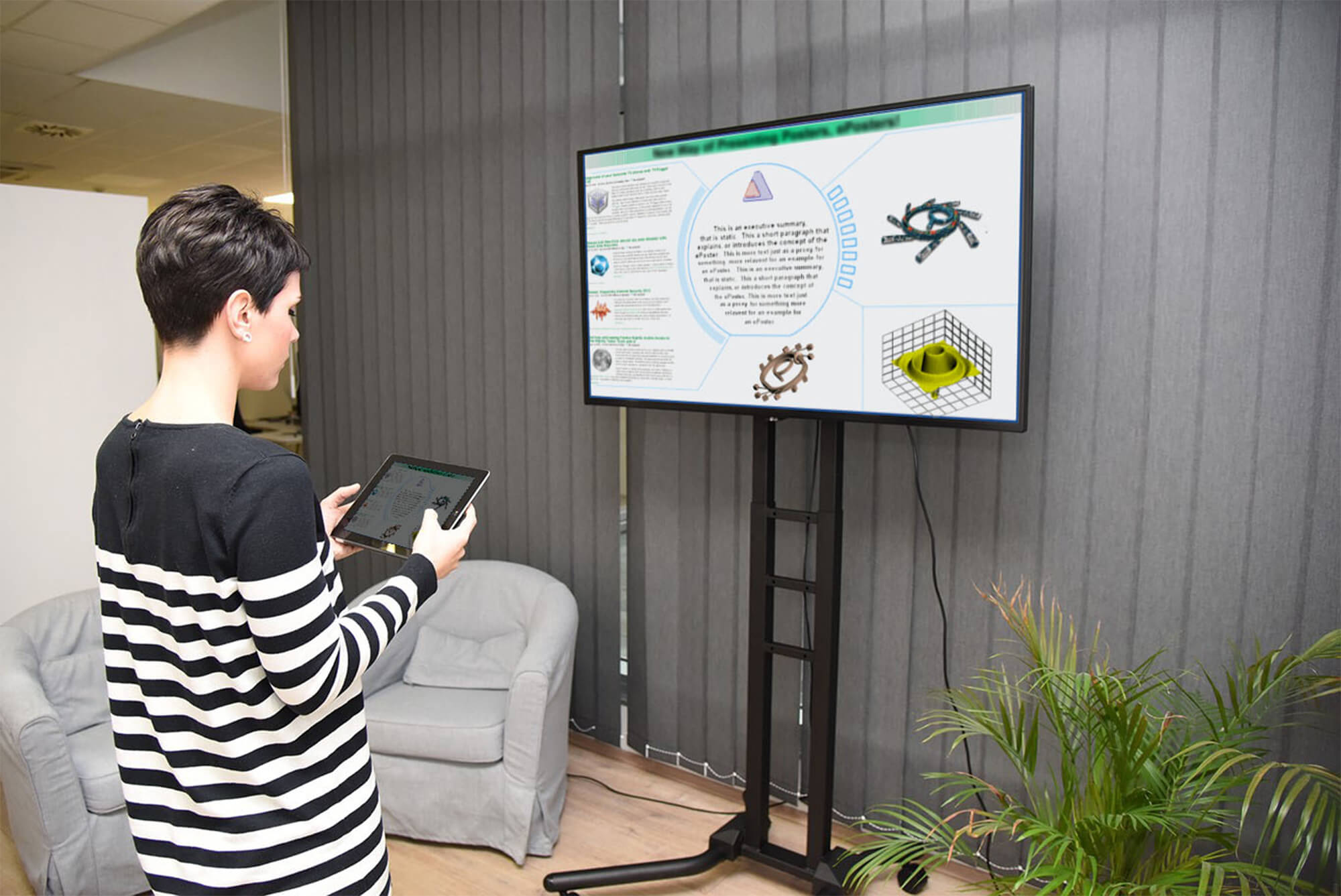 By using the INposter, the participants are able to:
listen to audio recordings of the poster's contents in their language or other languages
comment on the poster
review other posters they are interested in, considering the theme
ask questions and achieving interaction
By using the INposter, companies are able to:
have custom poster designs according to themes
achieve interactivity with the participants
offer additional information
display ads
analyze poster attendance according to themes
An entertaining interactive application which raises value of every event.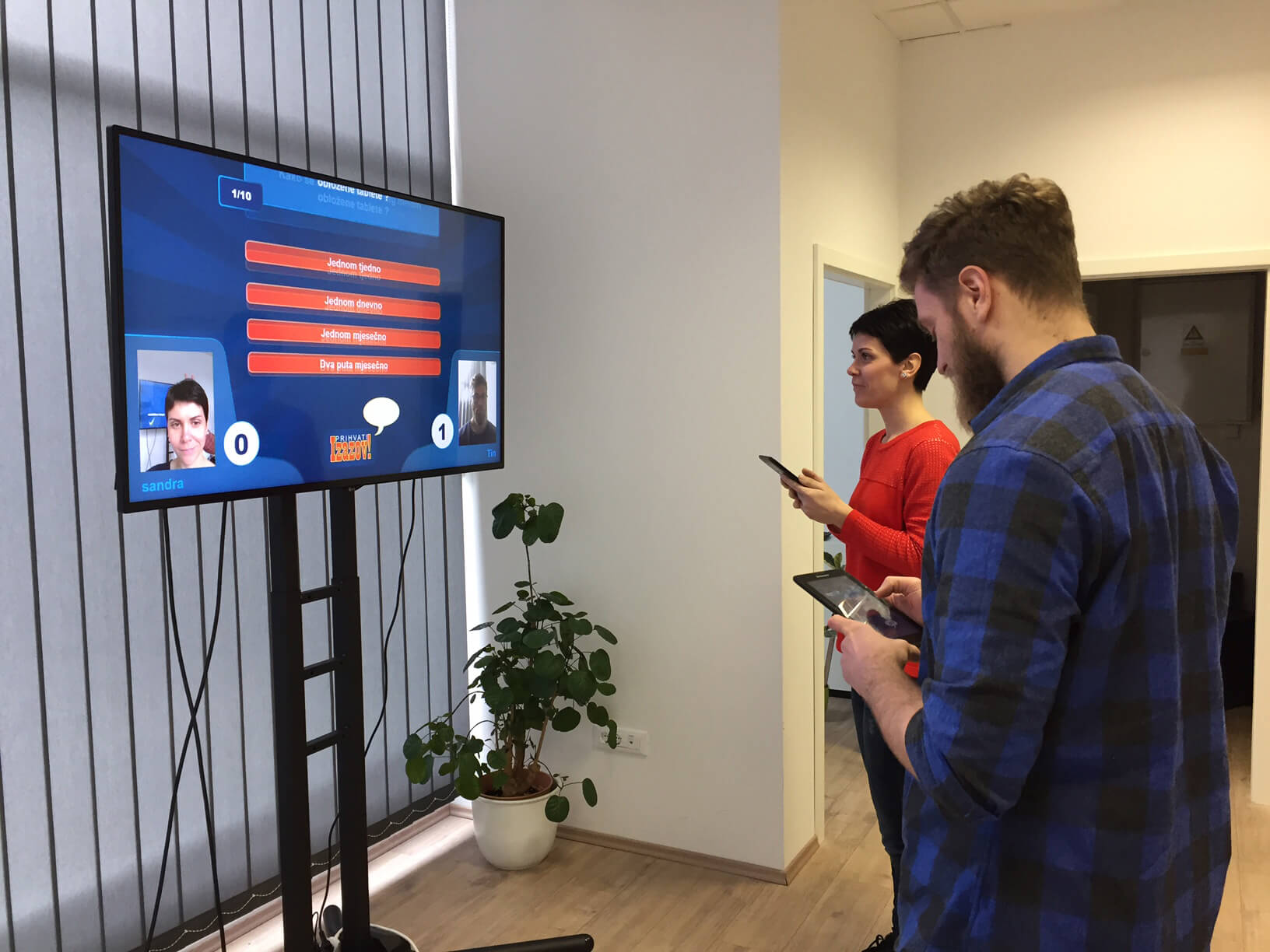 INquiz
Through INquiz, except through questions related to general knowledge, you add value to your brand or company.

Along with questions related to music, culture and sport, you add "branded" questions.

According to participants, INquiz has proven to be a valuable addition to congresses and conferences because it raises brand awareness in the targeted audience in an entertaining way.

That is the goal, is it not?

Except for the visual component, INquiz also contains an audio component - speakers.
The offer contains:
a large 55" monitor where the quiz results and questions for the audience are shown
2 tablets used by participants to answer the questions
custom quiz visual branding
inserting desired questions into the quiz
nam je
Gallery
See pictures from previous events
Newsletter
Subscribe to the newsletter and keep up to date with news related to events.
Contact
Adress
Zagrebačka cesta 231, 10 000 Zagreb, Hrvatska
Message successfully send. Thank You!